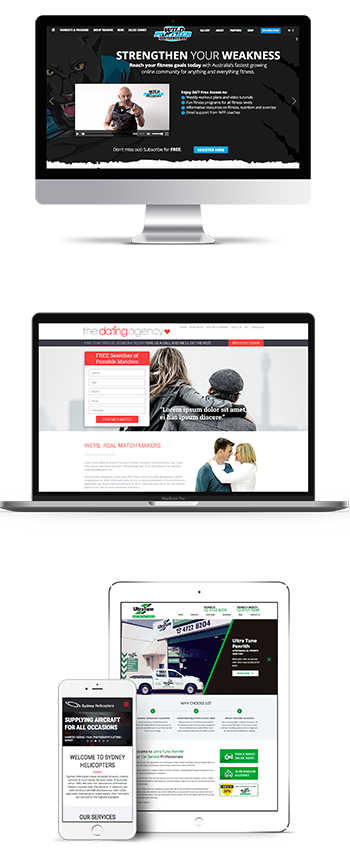 We design impressive websites.
With so much competition out there, your website must stand out from the rest. We develop websites that are attractive, professional and easy-to-use. Let us design an impressive website to draw and engage potential customers.

We create bespoke web solutions.
We don't use templates and we don't believe in a one-size-fits-all solution. We will tailor your website to suit your business, objectives and budget. We have successfully developed websites to meet the needs of many different businesses.

We build effective websites.
Your website must sell! We design websites to attract your target audience, build confidence in your brand and compel customers to buy from you. Let us develop a website that convinces customers to buy your products or services.

We develop fully-functional websites.
Our websites are professional, reliable and functional across all popular internet browsers and mobile devices. Our websites are thoroughly tested to ensure it's easy-to-use, secure and works for all users across all devices.


We focus on the customer journey.
We think carefully about the entire customer journey from the moment your customer enters your website to the point they place an order or make an enquiry. We design the customer experience to be positive and to encourage potential customers to buy from you.
Why Choose Us?
We focus on customer experience.
To succeed, your website must offer the best customer experience. We know what it takes to keep customers coming back to your website.
We take a holistic approach.
We don't just build websites. We look at the big picture to determine the best marketing strategy for your business.
We have an awesome team!
We are passionate about all things web – we love what we do! Our team is experienced, creative and professional. We think outside of the square.
We make it easy for you.
We take a sensible and practical approach to managing your online presence. We don't muck around and we keep things simple.
We take care of everything!
This means you deal with one company for your website, search engine optimisation, social media marketing, domain names and website hosting.
We're an Australian company.
Don't risk your business with an unknown overseas company. We understand your market and we are subject to Australian legislation.